The ICT4Peace Foundation and its partners conduct a first of its kind training course on Crisis Information Management for African Peacekeeping and Peace-building Missions using ICTs and New Media (Cairo 9 to 13 October 2011)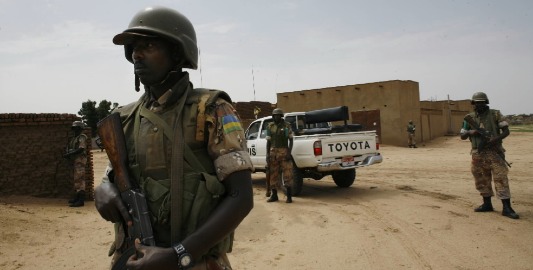 Image courtesy The Lede, New York Times
Together with its partners, the Cairo Regional Center for Training  on Conflict Resolution and Peacekeeping in Africa (CCCPA), the Folke Bernadotte Academy (FBA) Sweden, Zentrum für Internationalen Friedensdienst (ZIF), Germany, The Center for Crisis Management (CMC), Finland and the African Peace Support Trainers' Association,  (APSTA), the ICT4Peace Foundation will conduct from 9 to 13 October 2011 a pilot JMAC–Crisis Information Management Course, which  aims to strengthen the skills and capabilities of present and future senior level staff of  UN, African Union or other Peacekeeping and Peace-building Mission Analysis Centres, be they civilian, military or police, in collecting, analysing, assessing and producing information for better crisis management and decision making at UN peace mission level involving a wide range of stakeholders. It also aims at developing African capacities for peace operations. The Course will also demonstrate the opportunities and challenges of these new ICTs and social media tools and provide some reality based simulation exercises. The Swiss Government financially supports the contribution of ICT4Peace.
Efficient and timely provision of shared situational awareness (SSA) and professional crisis information management are essential to enable decision-making in Multi-dimensional Peace Operations and are a prerequisite for effective action and integrated approach, founding principles of the United Nations and African Union integrated missions.
Ultimately, successful integration and coordination requires a high degree of sensitivity to the interest and operating cultures of a broad set of actors, and efficient and appropriate Information Management (IM). For this purpose, for instance, the UN has established Joint Mission Analysis Centres (JMAC) in peace missions that are staffed by civilian, military and police peacekeeping personnel. JMAC's role is the provision of reliable information to decision-makers to make accurate and appropriate decisions in crisis situations - whether humanitarian or conflict based - using openly collected information from a variety of uniformed and civilian sources. These include modern Information and Communication Technologies (ICTs) using social media, crisis mapping, and crowd sourcing as essential tools already used by the international community in crises.
The Folke Bernadotte Academy has carried out the Information and Intelligence Cooperation in Multifunctional International Operations Course, and contributed to the Development of the Nordcaps United Nations Joint Mission Analysis Centres Course. The Cairo Regional Center for Training on Conflict Resolution and Peacekeeping in Africa (CCCPA) and the ICT4Peace Foundation have cooperated in the past, in organizing Training Programs for Multidisciplinary Integrated Missions in Africa and a Training Programme for Integrated Missions to Overcome the Lack of Shared Situational Awareness in Peacekeeping Operations. ICT4Peace has supported the Kofi Annan International Peace-keeping Training Center (KAIPTC) in Ghana to develop a Crisis Information Management Course and carried out a Crisis Information Management Training Course at the Master Programme on Humanitarian Logistics and Management of the University of Lugano USI), together with OCHA.
At the Conference of the International Association od Peacekeeping Training Centers, IAPTC 2010 in Dhaka, ICT4Peace organized a workshop on a potential JMAC-CiM course, which was well received. Following that conference, FBA, CMC, ZIF, CCCPA and ICT4Peace agreed to jointly develop a Senior JMAC-CiM training course, building on the experiences of the above-mentioned courses and organisations, and in coordination with UN and the African Union. Subsequently ICT4Peace and its partners organized a one day workshop – kindly hosted at and by ZIF in Berlin, to discuss and develop the content of a new training course, under the leadership of Jacques Baud, Director of the course in Cairo, a former Head of the JMAC in Sudan and a Senior Advisor of the ICT4Peace Foundation. The course in Cairo is an integral part of and supports the implementation of UN Secretary General's Crisis Information Management Strategy (CiMS), developed by the UN ASG Chief Information Technology Officer (CITO), Dr. Soon-hong Choi, in cooperation with the ICT4Peace Foundation.