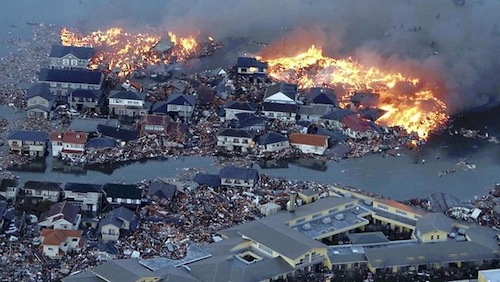 Image from News.com.au live blog on the disaster
At around 3pm local time, a massive 8.8 richter scale earthquake struck off the Oshika Peninsula, Tōhoku, Japan. Subsequently, the earthquake created tsunami waves of up to 10 meters (33 ft) that struck Japan. Wikipedia has comprehensive coverage of this disaster, which is the largest earthquake to have hit Japan since records began.
ICT4Peace leveraged its Twitter account to scour through the hundreds of tweets coming from the ground and in the media. Using Google's realtime search, the Foundation was able to curate some of the best links to crisis information, and continued to do so through the course of the day, beginning around an hour after the earthquake struck. These tweets in turn generated dozens of retweets demonstrating both the potential of Twitter to spread information generally as well as the power of social networks to push this information into respective spheres of influence. Most of our tweets were tagged with @crisismappers, pointing to the Crisis Mappers website where increasingly, the best information on disasters as they happen can be found and responses generated. The retweet of @groundviews followed concerns where Sanjana Hattotuwa, who curated these updates, resides, when news of the earthquake triggered grave concern over a tsunami such as that which completely devastated many coastal areas of the island on Boxing Day, 2004.
Following is a list of these tweets that still bear relevance to those interested in information from Japan, and helping those in need.