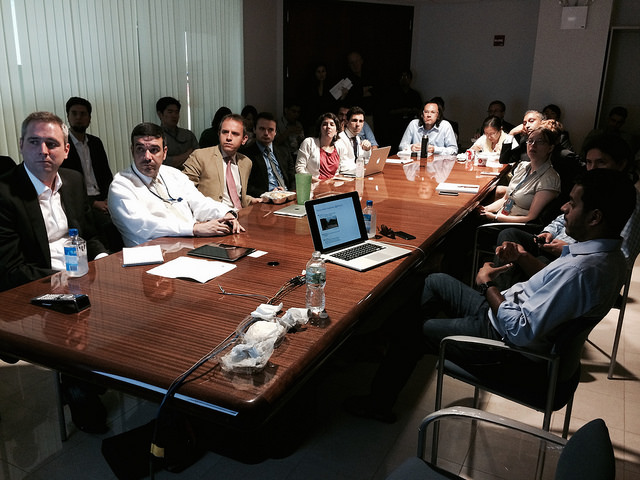 Sanjana Hattotuwa, Special Advisor at the ICT4Peace Foundation, gave a presentation on big data and data science at the invitation of the United Nations Department of Political Affairs (DPA) in New York on 25th June 2014.
The brown-bag session, attended by over 45 people from various departments and agencies at the UN in New York, was focussed on the following brief provided by DPA:
New web and mobile-based media and information dissemination platforms are constantly evolving and producing increasing amounts of content, much of which makes up what is often called "Big Data." This unprecedented development has inevitably led to some vital questions. For example, can Big Data and the new media that both creates and disseminates it be used in crisis situations? Does Big Data disempower local communities as much as it democratizes data analysis? How can it help communities to mitigate, respond and recover from conflicts and disasters? What about its relationship to privacy and the potential misuse of information? The presentation will focus on these issues by seeking to explore ways in which information communication technologies (ICTs) can be used to aid DPA's work, particularly in early warning and crisis mitigation and response.
Sanjana's presentation focussed on how in Sri Lanka's most recent communal violence, social media provided the first and best insights into the unfolding ground conditions, when official sources and mainstream media were silent. For the sake of the presentation, dividing big data between user generated content (UGC) and sensor data, Sanjana looked at how both are contributing to new ways of engaging with the world as well as adding to existing challenges around privacy, human rights and surveillance. Sanjana also looked at how big data is changing national and regional politics, and how elections in India recently as well as in other countries are now anchored to data driven decisions in electioneering and campaigning - the content around which had enduring implications for democracy and governance.
Eschewing the frequently held assumption that massive institutional investments in data science on an algorithmic or system intelligence level alone (e.g. by purchasing expensive platforms for big data collection, analysis and visualisation) was enough to leverage actionable intelligence from big data, Sanjana also flagged black swan events which remained extremely hard to identify and predict. Examples in this regard were social media content generation around the military coup in Thailand, the phenomenon of geo-remixing (of Pharell's Happy music video) and the commemoration of Tiananmen Square violence in China 25 years ago, where if one didn't know what to look out for and where to look, social resistance around official edicts go under the radar, which for DPA alone could mean that social agitation and nascent civil society resistance around the status quo could go undervalued and until much later, unnoticed.
Anchored to the Foundation's core interest in Big Data, Sanjana ended by raising some rights based and ethical challenges around the generation and use of Big Data in polity and society, especially when so much of it is in the control of corporate entities.
Sanjana also flagged the ICT4Peace Foundation's Big Data timeline and Flipboard magazine for those interested in the topic to follow.
Some photos from the presentation can be seen here.