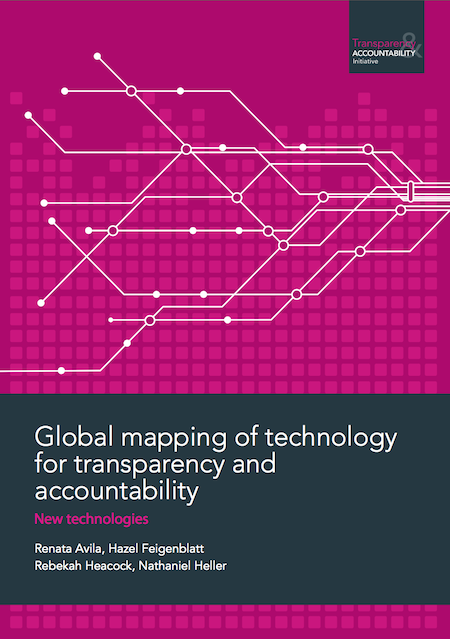 The Transparency Accountability Initiative recently released the final report on a Global mapping of technology for transparency and accountability. As the launch press release avers,
As internet and mobile phone use increases, technology is transforming the field of transparency and accountability making it an increasingly dynamic space across the globe. Technology is helping to improve citizen participation in decision-making and producing new ways of identifying public service challenges through processes such as 'data mashing'.

This paper documents current trends in the way technology is being used to promote transparency in different parts of the world. It reviews over 100 projects from across Africa, Asia, Europe and Latin America, examining how new technologies are re-energising traditional methods. In particular, it focuses on how these new technologies are helping to engage different actors from citizens, media, authorities and the private sector.

Our research finds promising success stories alongside less accomplished examples. The authors argue that a key element of successful technology use in transparency and accountability efforts is their speed – both in execution and in stimulating change. Well-designed efforts produced relevant and usable information that can be used to demand accountability quickly. Technology for transparency and accountability tools need not be sophisticated, but it does need intelligent design that is relevant to the local context. Projects also have a better chance of effectively producing change when they take a collaborative approach, sometimes involving government.

The paper includes a summary of the key findings and recommendations for further research in key areas of this field.
Download the PDF from here.
Special Advisor to the ICT4Peace Foundation Sanjana Hattotuwa's work in Sri Lanka using technology to strengthen democratic governance was highlighted as a key example in the lead up to this report.
The PDF and video below are taken from Technology for Transparency Network blog.