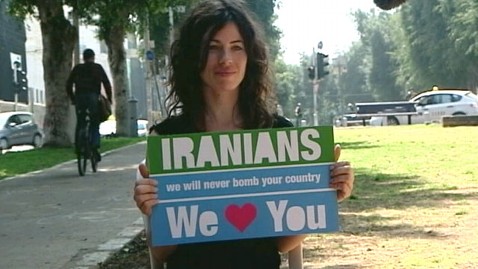 Image courtesy ABC News.
The ICT4Peace Foundation was sent the following paper which we found extremely interesting, and with the permission of the author, is pleased to publish on our site.
Abstract
The Israel loves Iran campaign was created from a publication of Israeli designer Ronny Edry on his Facebook profile. Example of the social global mobilizations that emerge on the net, it is a movement that nowadays brings together more than one hundred thousand internet users calling for the peace in the Middle East. Understanding the Internet as a "digital agora", the work intends to discuss its potential for conflict mediation. The idea of representativity gains another dimension on the web. Ambassador of himself, the Internet user finds in the network an alternative space for diplomacy, multiplying the number of voices at the negotiating table. This dialog allows individuals to reformulate ideas in relation to the "other" that served as the basis for their own identity. Its efficacy, however, happens more in the field of political imagination than in spheres of power.
Download the full paper here.
Author
Júlia Lacerda Mandil: graduated in Journalism at the School of Communication Studies of the Federal University of Rio de Janeiro (UFRJ)
Academic Advisor
Cristiane Henriques Costa: phD in Communication and Culture at the ECO-UFRJ, where coordinates the Journalism course, researcher of the Advanced Program of Contemporary Culture– Pacc-UFRJ