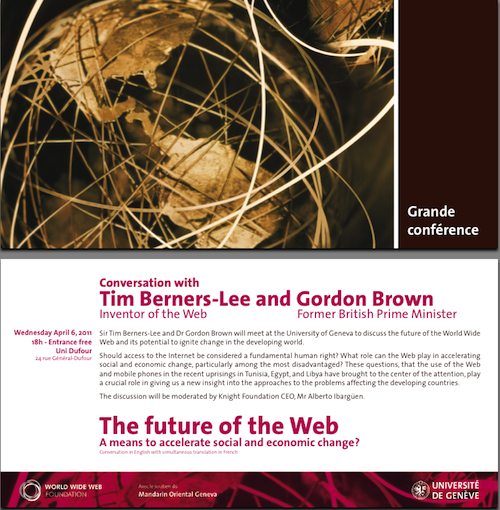 Tim Berners-Lee and British former Prime Minister Gordon Brown were at the University of Geneva on Wednesday 6 April to talk before 2000 people about the future of the web and its role in initiating change. Both leaders are prominent directors of the World Wide Web Foundation, whose mission is to help expanding access to the 80 per cent of the world's population who do not have access to the web and trying to help people in Africa, Asia and Latin America put useful local content in their languages on the web and access it via simple, ubiquitous, mobile phone technology. Today, the minimum infrastructure required for providing mobile browsing is available. Some 95 per cent of existing phones worldwide have a basic browser or possibility to have one, and 90 per cent of the world is covered by a minimum GSM mobile telephone network. More important is the content, services and information. People have to be taught how to develop HTML sites that fit low capacity browsers and bandwidth (see full article on swissinfo.ch) and enable them to exercise their right of access to the web.
Daniel Stauffacher, Director of the World Wide Web Foundation Board and ICT4Peace Foundation Chairman, proposed and helped organizing this event in cooperation with the Government of Geneva and the University of Geneva.
Below are two English press pieces on this event:
View the event poster in full-screen here.