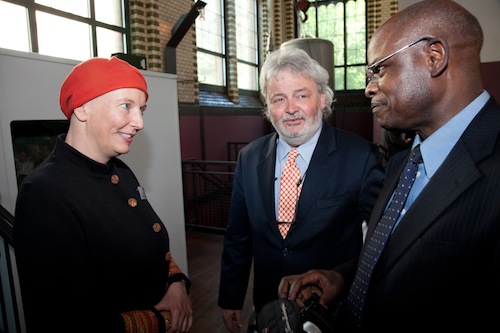 Dr. Almut Wieland-Karimi, Director of ZIF, Dr. Daniel Stauffacher, President, ICT4Peace Foundation and Brig. Gen. Marcel R.D. Chirwa  (Rtd), Executive Secretary, African Peace Support Trainers' Association (APSTA) Secretariat, Nairobi. Image © ZIF.
The Centre for International Peace Operations, ZIF celebrated its 10 Year Anniversary in Berlin (http://www.zif-berlin.org/de/ueber-zif/10-jahre-zif.html). ICT4Peace congratulates ZIF for this important milestone  and participated in the celebration events.
ICT4Peace is proud to have worked with ZIF over several years and has signed an MOU (http://ict4peace.org/updates/mou-with-zentrum-fur-internationalen-friedensdienst-zif). The main area of cooperation is the development and testing of a new training course for Crisis Information Managers, using inter alia new media tools for better sharing of information in multl-stakeholder  Peace-keeping and Peace-building missions (http://ict4peace.org/updates/cim-for-africa). This program is carried out in a consortium of training institutions, FBA, Sweden, CMC, CMI, Finland, Nodefco, Norway, CCCPA, Cairo and Apsta, Nairobi.